Do Convex Mirrors Work?
9/09/2012 6:04 p.m.
You are often aware that there is a visibility issue in a particular traffic situation and often there are several solutions. In some cases trimming a tree can solve the problem. However in many cases to improve visibility requires major work such as shifting driveways, moving a hill, straightening out a road but because the cost of such improvements is very high, we need an alternative plan. This is where the correct placement of a convex mirror can provide an economical and quick alternative. But do they work?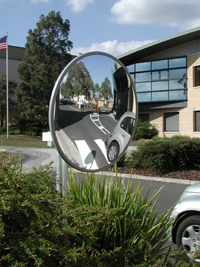 The short answer is yes. Independent research in several countries does support that convex mirrors do significantly improve safety and are considered a very economical option to solve a dangerous traffic visibility issue.
Research to support this statement is as detailed below and is by no means all the research that exists on this subject but is a good cross section of reports for more popular at risk areas.
A September 2010 report by the Department for Transport in the UK entitled Road Safety Research Report No. 111 concluded that;
"Provision of convex mirrors at concealed entrances would allow drivers to pull out safely."
This UK research was primarily focussed on country driving situations.
D. Moukhwas in his research paper from the Transportation Research Institute, Technion City, Haifa 32000, Israel concerned himself with primarily urban situations using convex mirrors at intersections.

The conclusion arrived at was as follows;
"The main finding is that the mirror appears as a device that enhances safety behaviour and can be recommended as a traffic aid."
In Japan research into the use of convex mirrors in urban problem areas concluded that traffic convex mirrors in accordance with ergonomics guidelines was highly recommended.
Australian research by the State of Queensland (Department of Transport and Main Roads) in 2010 recommended that;

Convex mirrors may be installed at the following locations where the lateral visibility/ sight distance is poor:

obscured T-junctions
concealed driveways
acute bends of a narrow road, such as hairpin bends in mountain passes
parking areas with acute exit driveways
approaches to skewed railway level crossings


The report went further in recommending that care should be used in the selection and type of mirror used.

"Convex mirrors must be suitable for outdoor use. They should be very durable, vandalr esistant, maintenance free or low maintenance and of weather proof material and construction."

This comment refers to the mirror face material and suggested that preference be given to either stainless steel or polycarbonate. One has to be careful in the selection of a polycarb traffic mirror as often these are manufactured from reground material and often have a short life because recycled material will break down as shown by crazing and yellowing of the face. This will also reduce the ability of the mirror coating to adhere to the deteoriating polycarb material.

Care also needs to be given to the material used in the back of the mirror and the bracket used to attach the mirror to a post or pole is robust and weather proof for a long life.
The New Zealand Department of Transport released a document on pedestrian walkways and the use of convex mirrors. The dept's conclusion was that in the event that clear visual improvements cannot be made to the at risk area, then convex mirrors offer a solution.

There is a lot of other material able to be reviewed from a search on the internet but the overriding conclusion is that well designed and robustly built convex mirrors do offer a solution at an economical cost. Refer to www.duravision.net for an example of a well designed and engineered traffic mirror with heavy duty zinc coated fittings inside the mirror and also the bracket.